RGB LED strip
This LED strip consists of the colours red, green and blue. This means that it can shine with one of those colours, all together or a mix of them.
This strip is suited, where you wish a play of colours. This might be along house walls, handrails, corridors. This strip can also be used to create a party atmosphere.
The strip has self-adhesive tape on the rear and can therefore be fastened on smooth surfaces. If the strip is to be glued to wooden surfaces, we advise to use aluminium rails between the strip and the surface.
Accessories (Click the accessory to add to basket)
This is included when ordering the LED strip
3 units extra plugs for the LED strip for dividing it into smaller parts.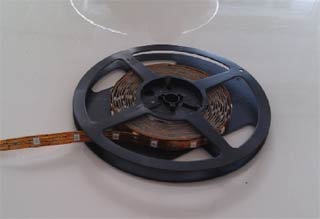 Technical information
Brightness:
250 lm/m
Voltage:
12 Volt
Power consumption:
7,2 W/m
Light diodes (type):
5050
Numbers of LED:
60/m
ODSIF's telephone number: +45 45 81 22 11.
Or send us an email: