White LED strip
This LED strip has a pleasant warm-white colour. It shines with intensity per metre corresponding to approx. a 20W incandescent bulb. This LED strip is suitable where you wish indirect lighting such as kitchen, living room, corridor etc.
The strip has self-adhesive tape on the rear and can therefore be fastened on smooth surfaces. If the strip is to be glued to wooden surfaces, we advise to use aluminium rails between the strip and the surface.
Accessories (Click the accessory to add to basket)
This is included when ordering the LED strip
3 units extra plugs for the LED strip for dividing it into smaller parts.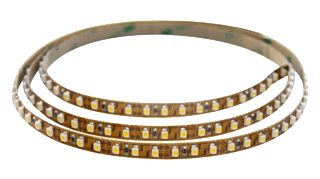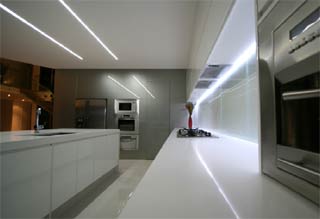 Technical information
Brightness:
400 lm/m
Voltage:
12 Volt
Power consumption:
4,8 W/m
RA value:
65
Light colour:
2700K
Light diodes:
3528
Number of LEDs:
60/m
ODSIF's telephone number: +45 45 81 22 11.
Or send us an email: