Wireless flat wall switch for curtain rails and lamps
Wireless flat wall switch for curtain rails and LED lamps
With this flat wall switch you can control your curtain rails and lamps from ODSIF. It is available in various LK designs that fit all electric installation.
The wall switches have double-sided self-adhesive tape on the rear side, which can be fastened on most surfaces. The switch is used to open and close the curtains and can also stop the curtains in any position.
The lamps can be turned on and off, and the wireless wall switch can also be used to change light theme.
Control of lamps
For control of lamps a double switch is used with 4 touches. The upper left touch is used to turn on the lamp, and the upper right touch to turn off the lamp. The lower left touch is used to choose the next light theme, and the lower right touch to choose the previous light theme.
Control of curtain rails
For control of curtain rails a wall switch with two touches can be used to control one curtain rail, or double switch with 4 touches to control two curtain rails. For more curtain rails, more switches can be used. The left touches are used to close the curtain and the right touches to open the curtains.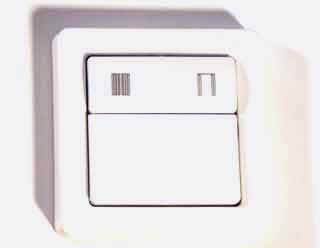 ODSIF's telephone number: +45 45 81 22 11.
Or send us an email: